In 2017, Arch Engraving launched our new community service program, ARCH GIVES BACK, where we'd pick a worthy cause each quarter for us to help in some way. Scroll down to see the work we've done.
Then in 2020, Covid hit. Given the situation, collecting physical items was difficult and not the best idea. On top of that, we felt we'd worn out our customers by asking for donations year round. So, we made the decision to stop choosing a quarterly non-profit and instead to focus on our annual holiday season toy drive for the various fine children's hospitals in our area. Having said that, we continue to find other less regimented ways to help non-profits - focusing on our non-profit customers, who already know, like and trust us.
---
2020 TOY DRIVE for Cardinal Glennon Children's Hospital - St. Louis MO
SSM Health Cardinal Glennon Children's Hospital is a non-profit children's hospital, caring for children of all ages,
Our goal this year was to collect 350 toys. Amazingly, despite the global Covid pandemic, despite layoffs, working from home and all the rest ... our customers, vendors, employees and friends rose to the challenge and we collected and delivered 355 toys to the kids at Cardinal Glennon! We are humbled and grateful for the enthusiasm and generosity of the people and companies we're lucky to be associated with.

Special thanks to:
Columbia IL Police Department
South County Toastmasters
Fabick Cat
Dobbs Tire & Auto Centers
---


1st Quarter 2020 Operation Food Search
Operation Food Search is a St. Louis-based non-profit organization dedicated to ending hunger in the greater St. Louis metropolitan area. Established in 1981, we are the largest distributor of free food in the bi-state region. We distribute more than 3 million dollars worth of food and household essentials to 330 community partner agencies, which in turn feeds 200,000 people in need each month – nearly one-third of whom are children.
Helping is easy: Please drop off non-perishable food at either of our two locations: Kirkwood or Fenton.
---

4th Quarter 2019 Shriners Hospital for Children
For more than 90 years Shriners Hospitals for Children — St. Louis has been bringing love to the rescue of more than 110,000 children with orthopaedic conditions and bone diseases. Our world-renown pediatric specialty care, innovative research, and outstanding teaching programs for medical professionals results in our co-listing by US News and World Report as one of America's top pediatric orthopaedic hospitals, with St. Louis Children's Hospital and Washington University School of Medicine.As a 501(c)(3) nonprofit organization, Shriners Hospitals for Children — St. Louis relies on the generosity of donors to continue improving the lives of children.
Thank you! We delivered 300 toys to the kids at Shriners Hospital!
Bill's grandson Hudson was a big help making the delivery!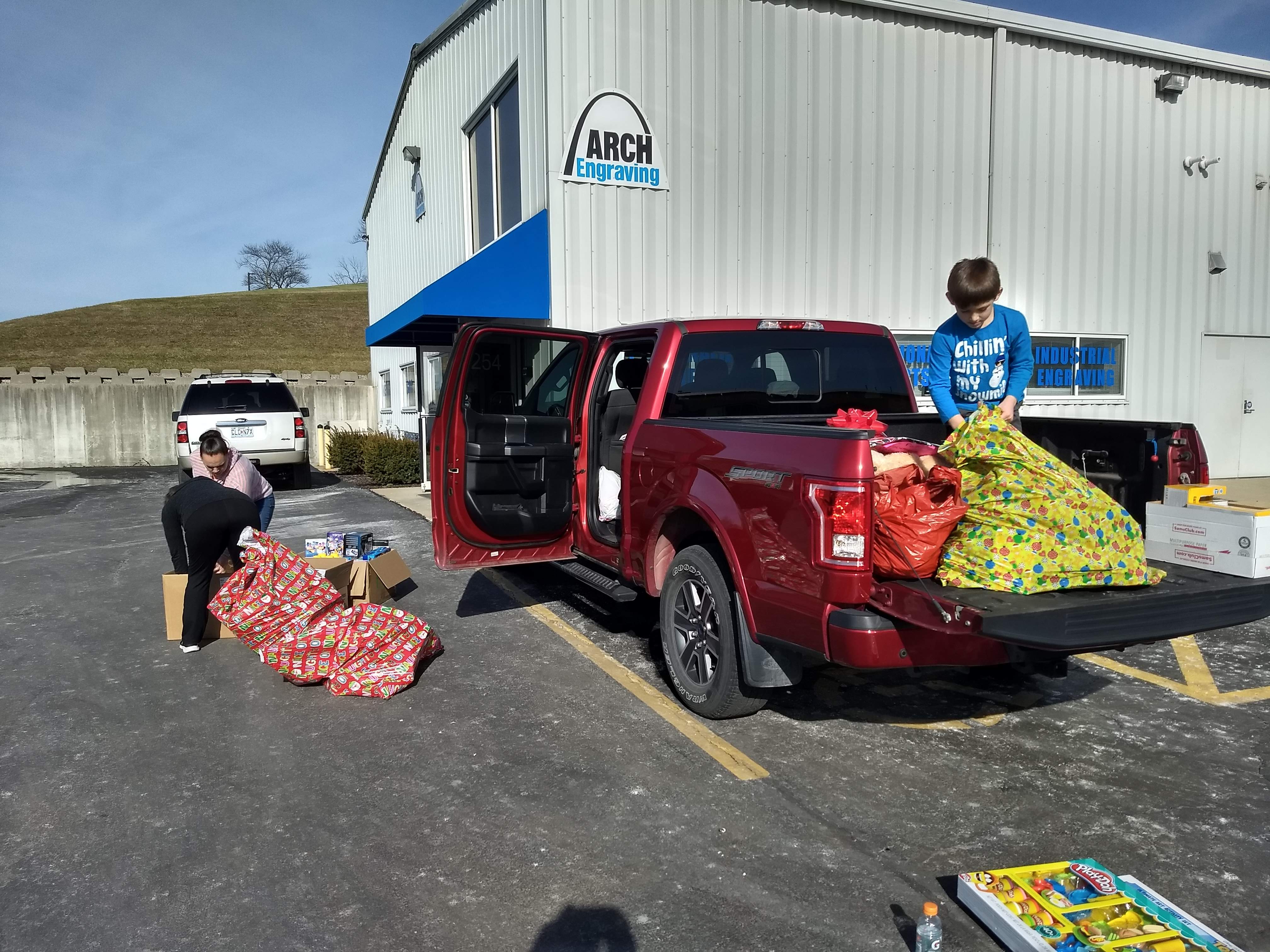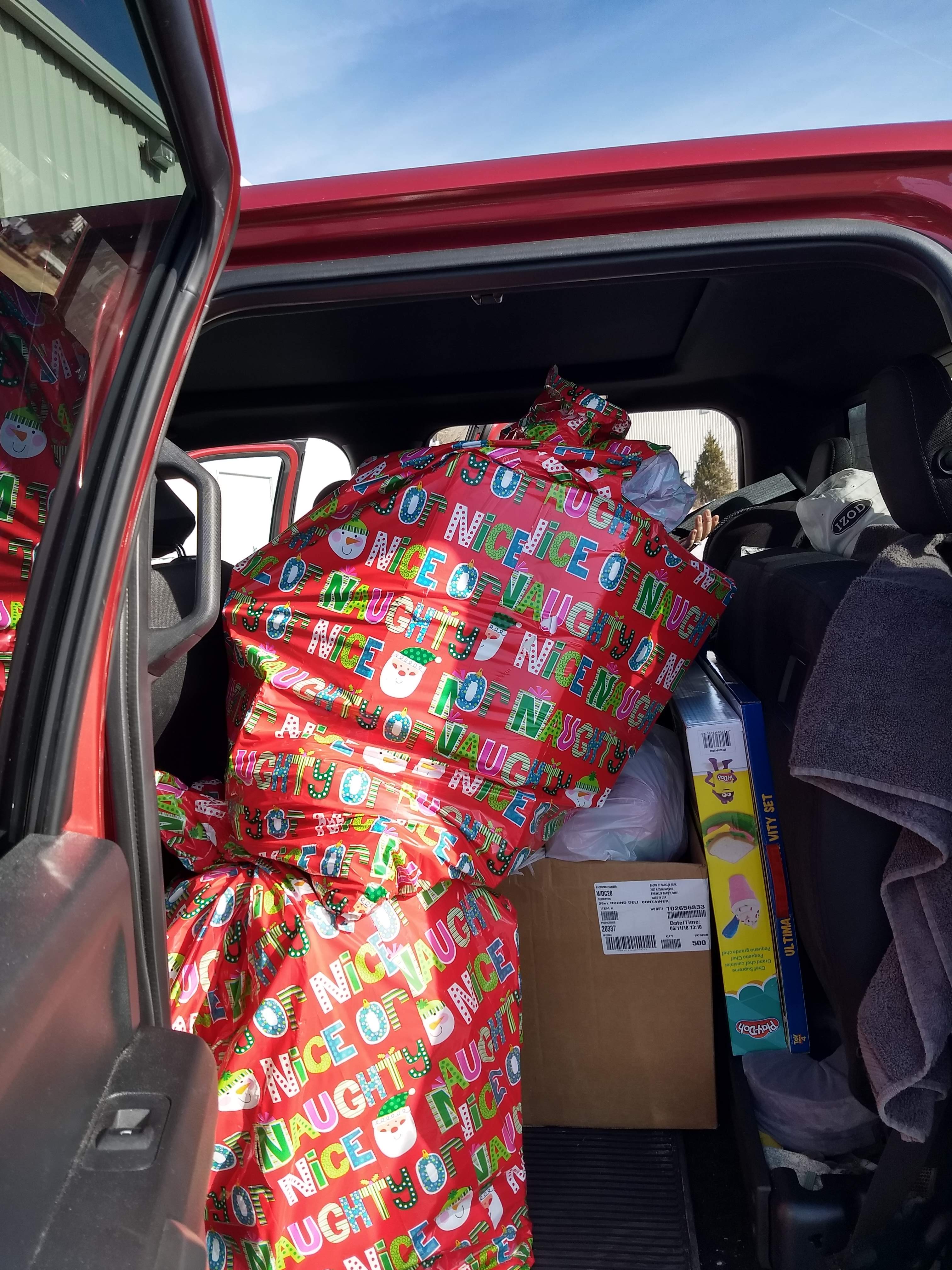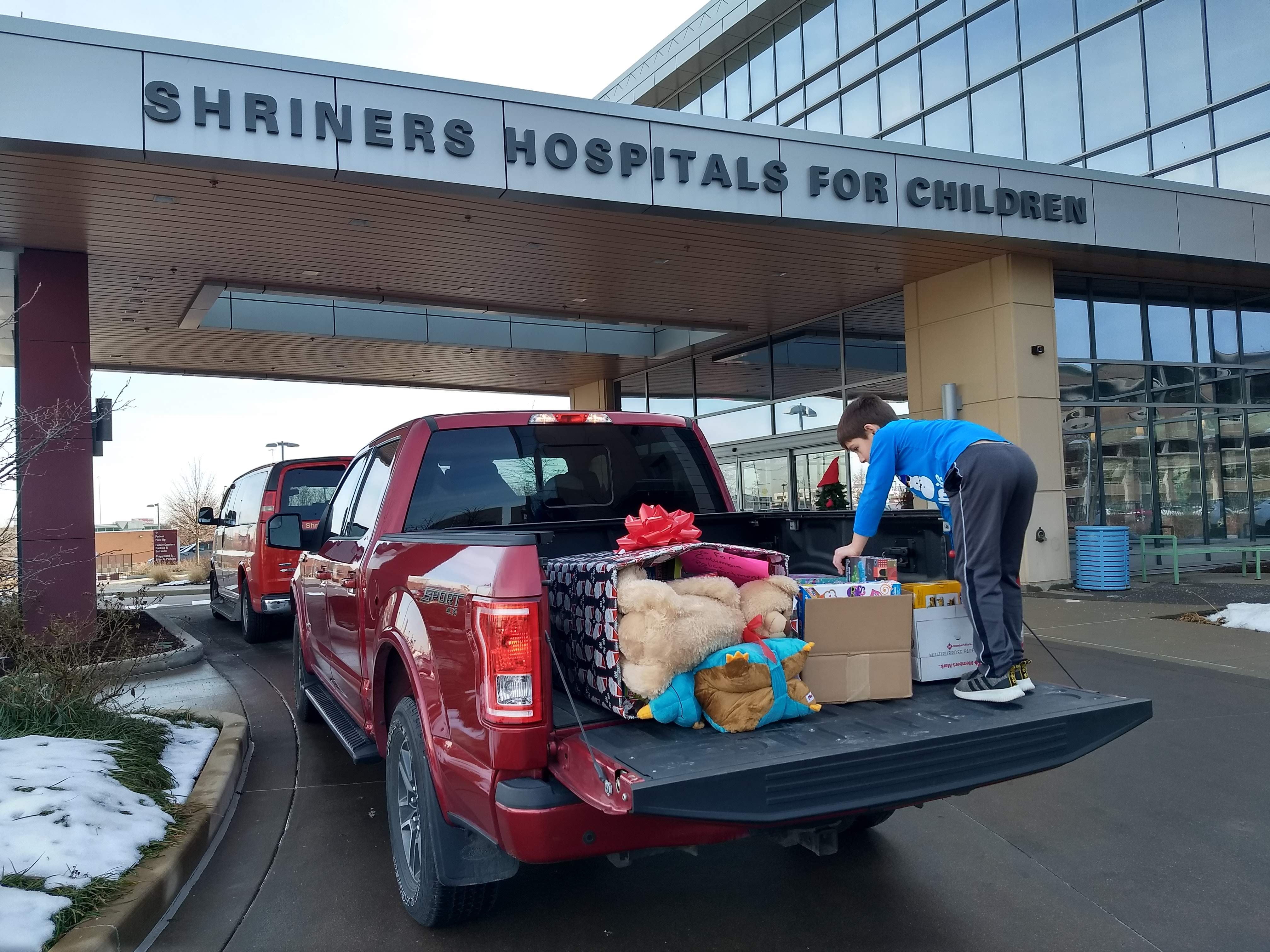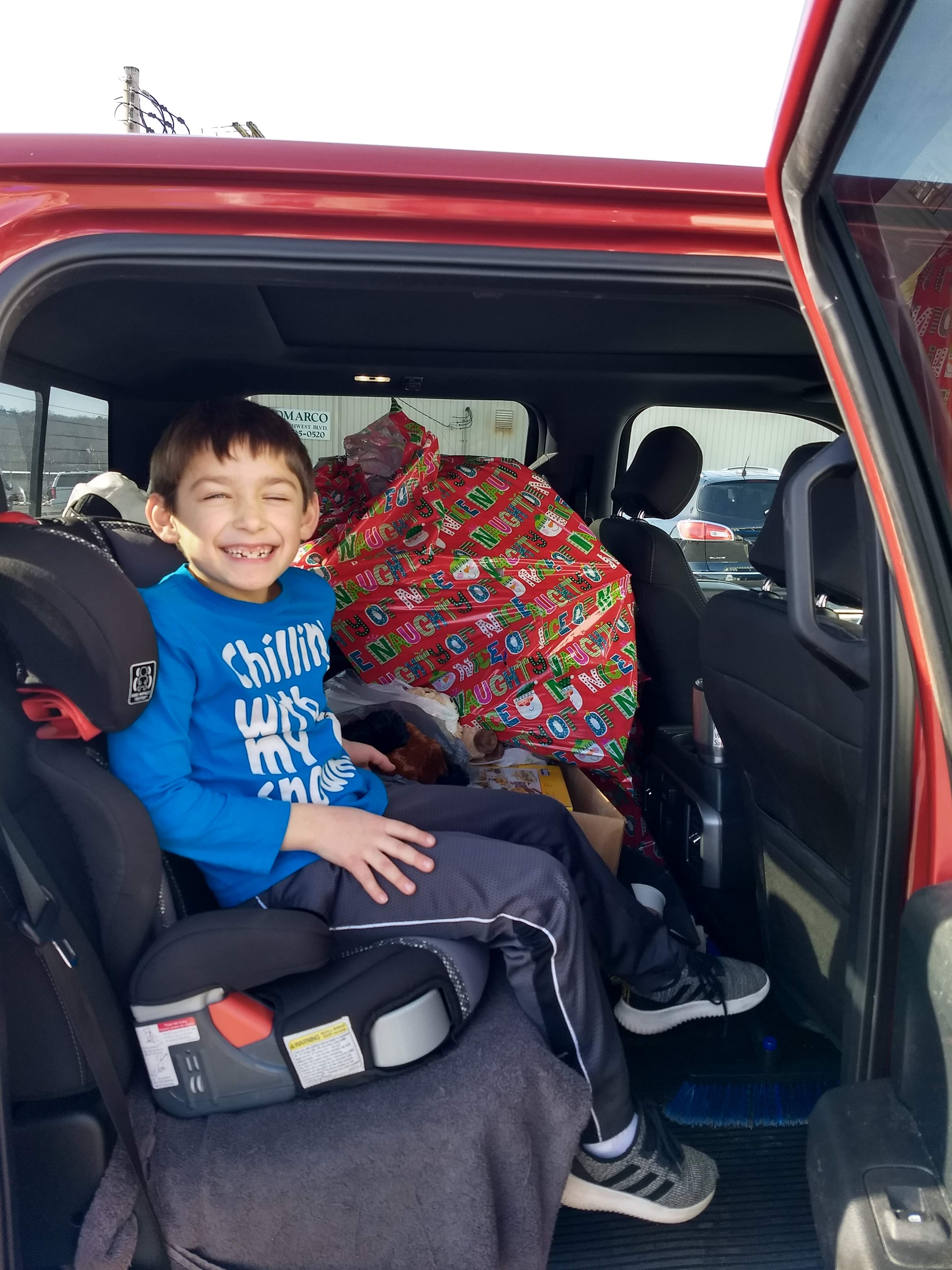 ---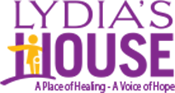 3rd Quarter 2019 Lydia's House
Lydia's House is the only transitional housing program in Eastern Missouri that is specifically for battered and abused women and their children and that offers immediate community. They have 36 confidentially located, fully furnished apartments where their families can find refuge, safety and support. In addition to offering secure housing, Lydia's House provides each family with their own advocate to help guide them through the recovering process. Each family member is connected to supportive services and both individual and group experiences that will help them regain control of their lives while building resources necessary for not only surviving, but thriving, in the wake of violence.
LDA's WISH LIST - Please drop off at either of our 2 locations:
13 gallon trash cans

CFL light bulbs (60 & 100 watt)

Kitchen towels & washcloths

Bath towel sets - new only, neutral colors

Irons, ironing boards & covers

Twin-sized sheet sets (new)

Pillows

Flashlights

Dish soap

Mops & buckets

Brooms & dust pans
Plastic forks

Paper plates

Baby wipes

Diapers - size 4 & 5

Baby sheets - new only, neutral colors

Kids' bedspreads & comforters

Deodorant

Toilet paper

Latex gloves

Paper towels

Pine-Sol

Laundry detergent
---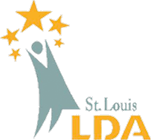 1st Quarter 2019 St. Louis Learning Disabilities Association (LDA)
The St. Louis Learning Disabilities Association (LDA) was born out of a grassroots community effort in 1967 to educate and support parents in advocating for the educational rights of their children. They have grown tremendously since then and now offer a wide range of services for children, parents and academic professionals.
LDA's WISH LIST - Please drop off at either of our 2 locations:
Wide Ruled and College Ruled Spiral Notebooks

Composition Notebooks

Loose-Leaf ~ Wide ruled and College Ruled

Pens/Pencils

Erasers

Dry Erasers

Germ X hand sanitizer

Tissues

Rulers
4 pack of highlighters

Two pocket folders with and without prongs

Glue

Backpacks

Copy Paper

Crayons - 24 pack

Markers

Colored Pencils

Scissors

4th Quarter 2018 St. Louis Children's Hospital TOY DRIVE
Founded in 1879, St. Louis Children's Hospital is one of the premier children's hospitals in the United States. It serves not just the children of St. Louis, but children across the world. The hospital provides a full range of pediatric services to the St. Louis metropolitan area and a primary service region covering six states.
What to Donate
Toys, teen gifts, art supplies, video games, stuffed animals, and crib mobiles are just a selection of items that we are in need of. Please note:
All items must be new with tags or in original packaging.
New or gently used books are accepted.
Handmade blankets must be laundered prior to donating.
Wish List Top 10:
Infant/toddler toys (i.e. music/light-up toys, teethers, rattles, crib mobiles)

Arts and craft supplies (i.e. Play-Doh, markers, crayons, etc.)

Uno & other card games

Gifts for teens (refer to Lovelight list on Amazon)

Lego Sets

Small playsets (Little People, small figurines, plastic foods, etc.)

Action Figures

Barbie dolls

Small bottles of acrylic paint

Ear buds/Headphones
We'll collect these items at both our locations through December 13, and will deliver them to the hospital on Friday December 14.
OUR GOAL FOR 2018 IS TO DELIVER 240 TOYS!
Please help make the holidays a little brighter for the kids at St. Louis Childrens Hospital!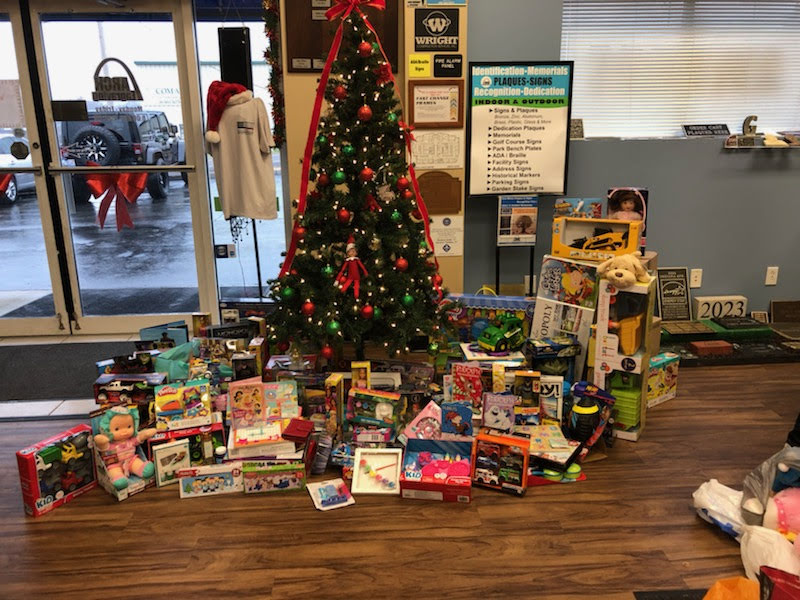 UPDATE! WE ACHIEVED OUR GOAL AND ON 12/20/18 WE DELIVERED 240 TOYS TO STL CHILDREN'S HOSPITAL!
THANK YOU - THANK YOU - THANK YOU TO OUR CUSTOMERS, TEAM MEMBERS, SUPPLIERS AND FRIENDS FOR MAKING THE HOLIDAYS JUST A LITTLE BIT BRIGHTER FOR THESE KIDS!
Our success was partly due to extending the drop-off time period by a week, but mainly due to the awesome Arch Engraving community!
Special thanks to Fabick Cat and South County Toastmasters!
---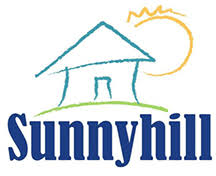 3rd Quarter 2018 Sunnyhill Inc.
Sunnyhill is a not-for-profit organization established in 1978 that provides residential support,
recreation & educational opportunities for children and adults with developmental and other
disabilities throughout the Greater St. Louis Area and surrounding counties.
Sunnyhill empowers people to become productive citizens and achieve their own dreams.
Residential services are community based and promote a persons dreams and independence.
Accessible recreation opportunities are available at their 65 acre adventure camp in
Jefferson County or through their On the Road Adventures program.
ITEMS WE'RE COLLECTING

• Paper Towels
• Toilet paper
• Trash Bags
• Spray cleaners
• Clorox Bleach
• Bleach Wipes

• Light Bulbs
• Flashlights
• Pots & Pans
• Windex
• Pinesol
• Batteries (AA & AAA)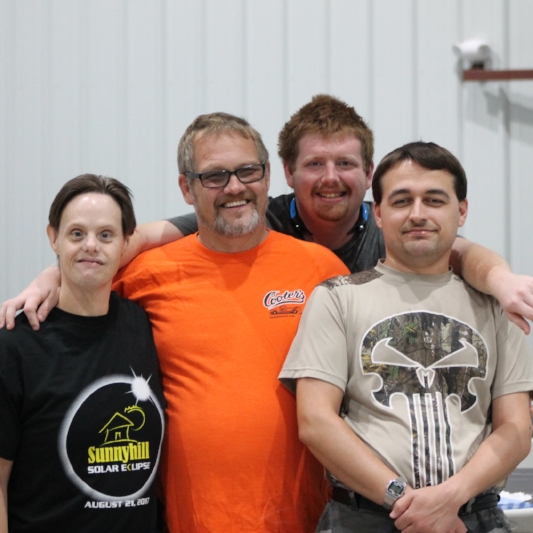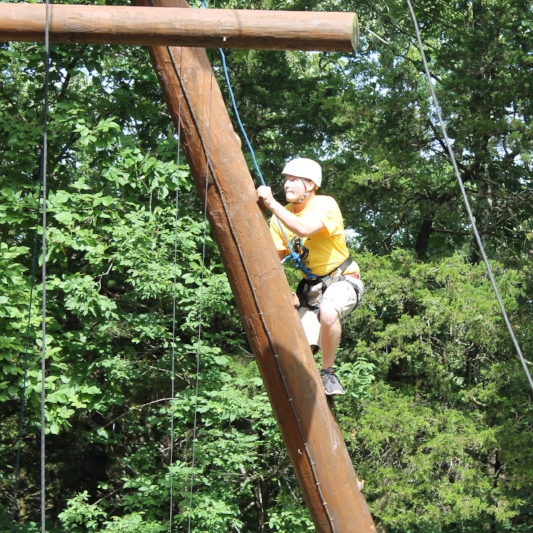 The mission of Stray Rescue of St. Louis is to lead the way toward making St. Louis a compassionate city where every companion animal knows health, comfort, and affection, and no stray is euthanized merely because he or she has been abandoned, abused, or neglected. Stray Rescue is out on the streets daily taking a progressive, proactive approach to establishing a permanent resolution to the stray companion animal problem through dedicated rescue efforts, sheltering, community outreach programs, education, collaborations and the encouragement of responsible pet guardianship. Stray Rescue of St. Louis is the largest no-kill organization in the city of St. Louis and surrounding area.
Virtually all of the pets we save have been abused and neglected. They've been dumped on highways or remote country roads. Abandoned in public parks, empty houses and dark alleys. Rescued from the torment of being bait dogs or prize fighters in dog fighting rings. We even save dogs left chained behind buildings and locked in houses after their owners had moved away.

We delivered a TRUCK LOAD of donated items to Stray Rescue on July 5, 2018!
THANK YOU to everyone who participated!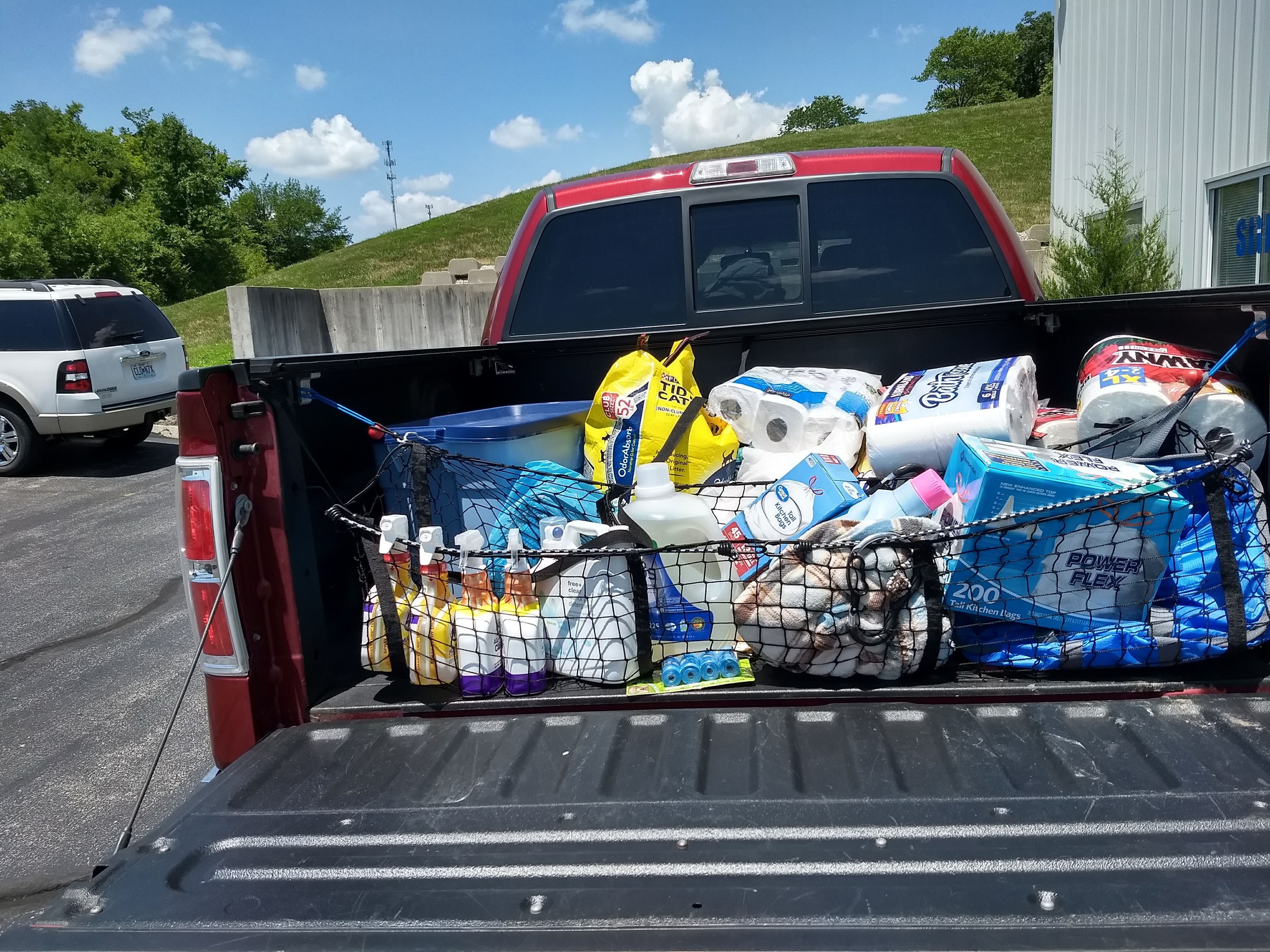 ---
1st Quarter 2018 Peace Pantry in Cedar Hill, MO
The Peace Pantry is a non-profit food pantry that helps people in need in the communities of Cedar Hill, Dittmer, Catawissa, Morse Mill, Grubville and those areas in Robertsville that are in Jefferson County, Missouri.
The Peace Pantry provides emergency and long term help to low-income families and individuals. Their services feed the hungry, provide school supplies and clothing and share the spirit of the holidays with those in need.
Volunteers run the food pantry. Even full-time Director of Operations Robert Hanners is a volunteer.
We collected non-perishable food, clean used clothing and personal care items at both of our locations during the first quarter, and made our delivery to Peace Pantry on Good Friday, March 30.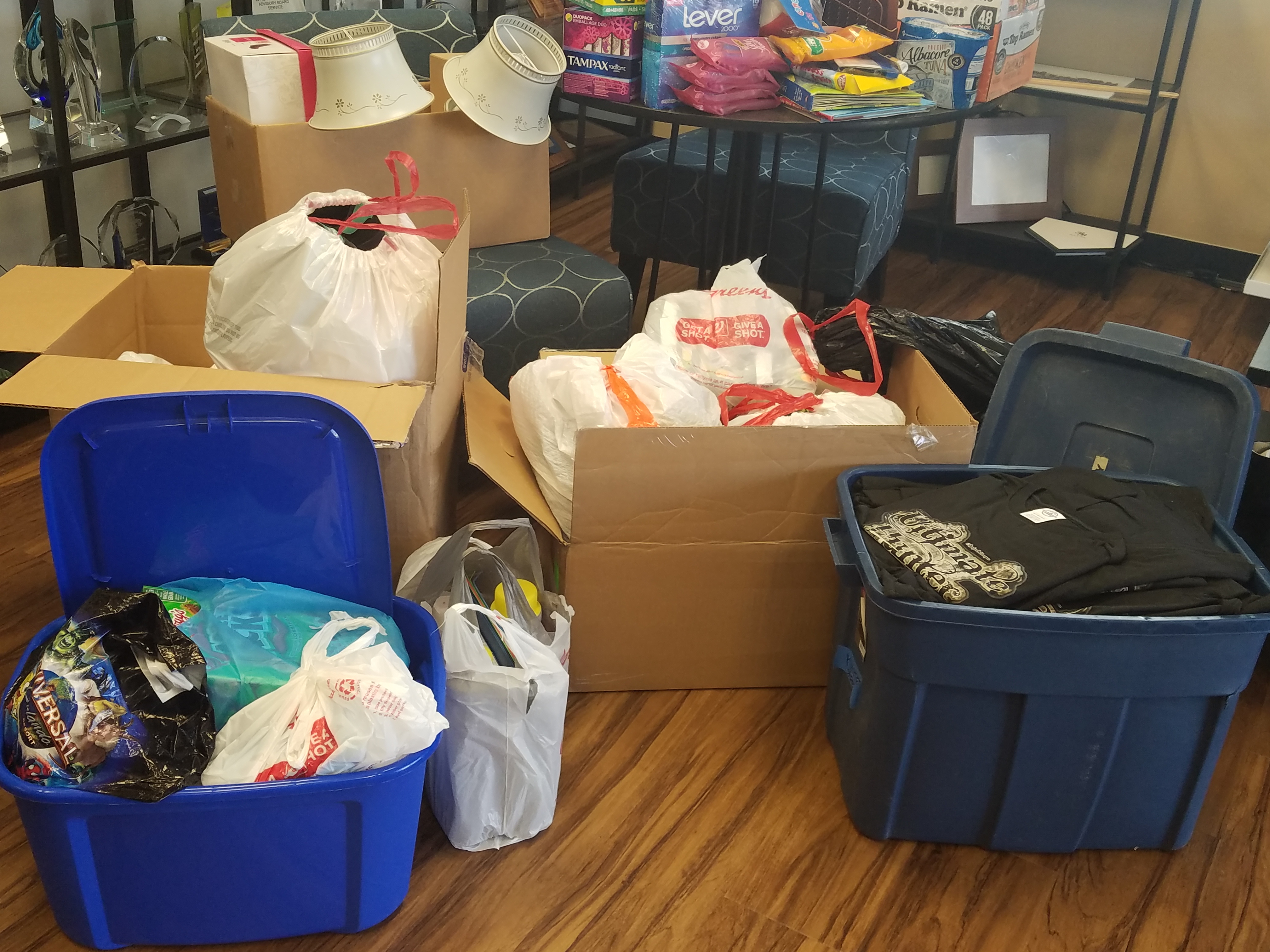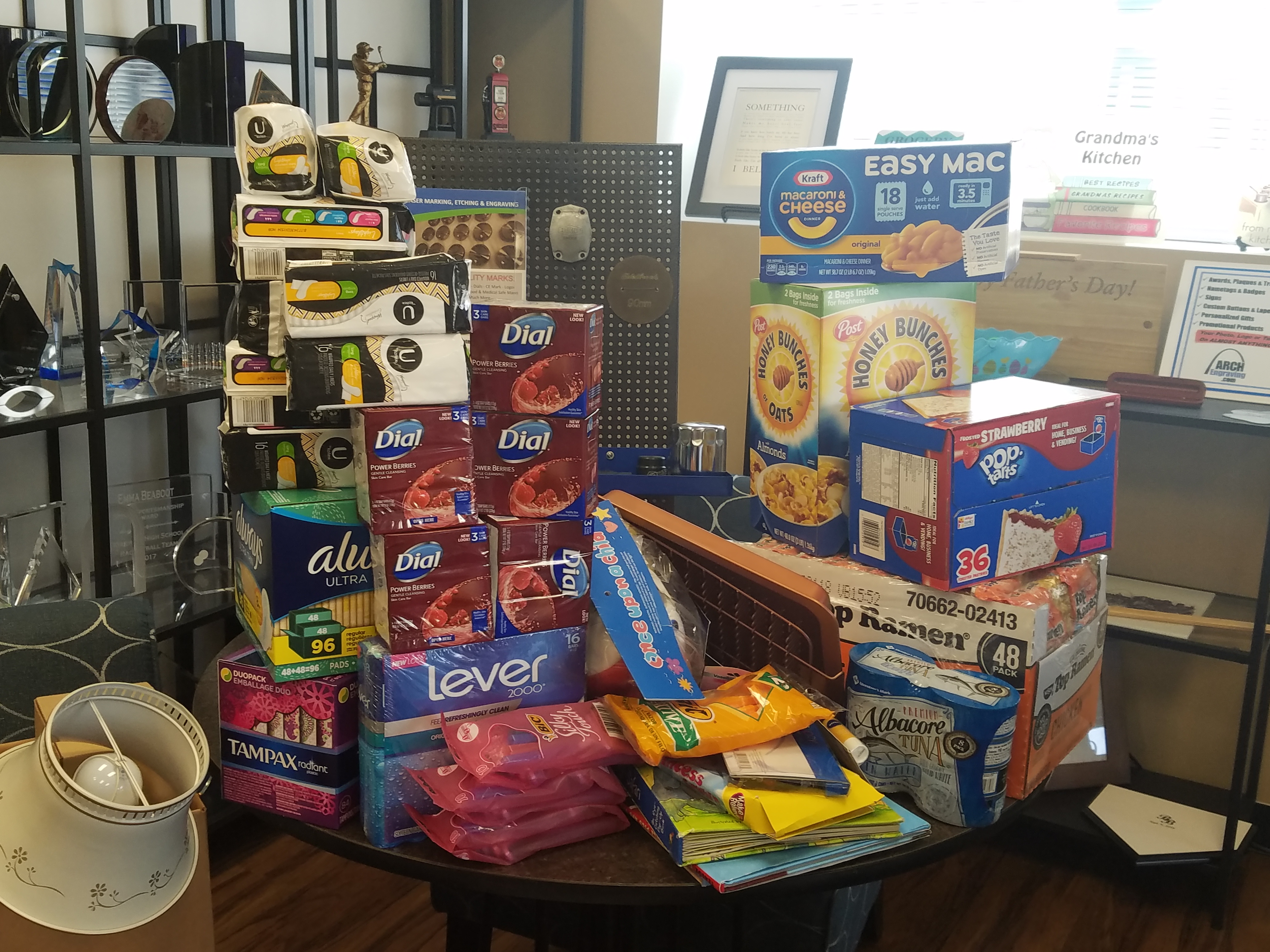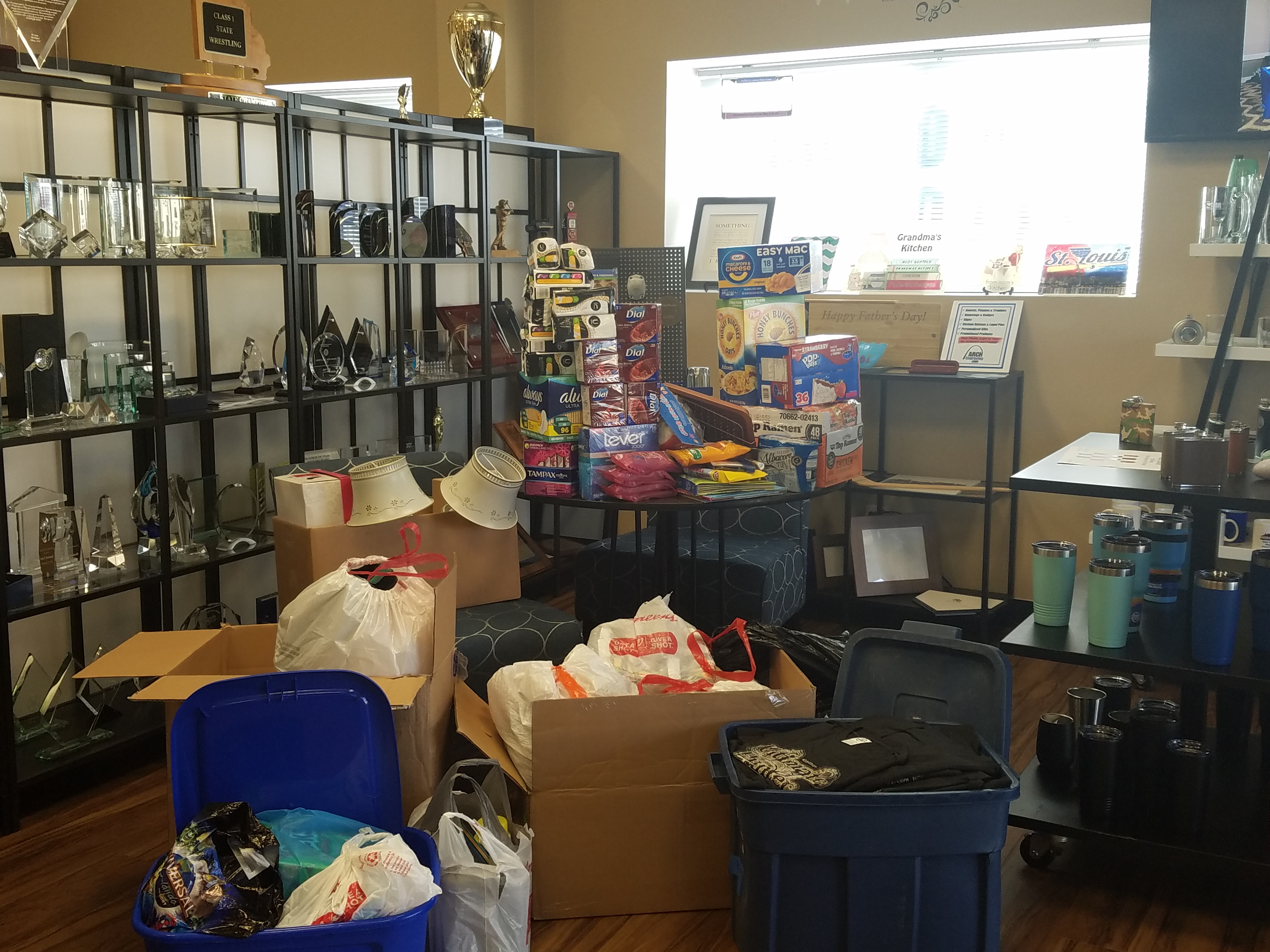 3rd Quarter 2017 Mary Culver Home for Visually Impaired Women - Kirkwood, MO
In the Home's newsletter, we saw the ladies' Wish List. It included nail polish, postage stamps, soda, microwave popcorn, sno-cone cups, wine and margarita mix! So, our employees pitched in and we filled every item on their list. 4 of our team members delivered the goodies and the ladies loved it.
For more than 145 years, the Mary Culver Home has been a haven for women with vision loss. The primary admission criteria: the home is for women only and they must have an eye condition that could lead to vision loss or be legally blind.
---
4th Quarter 2017 Cardinal Glennon Children's Hospital - St. Louis MO
SSM Health Cardinal Glennon Children's Hospital is a non-profit children's hospital, caring for children of all ages. We intend to make a Christmas season children's toy drive an annual effort, and our goal for 2018 is 250 toys!
Our 2017 Cardinal Glennon Toy drive is complete.

We collected over 120 toys to brighten the holidays for children at Cardinal Glennon! Thanks to everyone who donated.
Special Thanks to Tim Seibel of Fabick Cat who donated a case of cool Cat Skid Steer toys, and to South County Toastmasters, who collected toys for our toy drive at their holiday party.
---